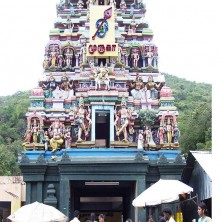 Sri Subramanya Temple, Pazhamudircholai
Pazhamudir Cholai
Presiding Deity:
Vel Murugan
This is one of the six of the holiest of Murugan shrines refered to as the Aarupadai Veedu.This is a holy shrine venerated by the Skanda puranam and by Nakkeerar's Thirumurugatrupadai of the Sangam period. Arunagirinathar's Thirupugazh also reveres this shrine.This shrine is located on the solaimalai hill also known as Vrishabhadri or Idabagiri, adjacent to the Kallazhagar Temple on the outskirts of Madurai at about 19 kilometers from Madurai and 4 Kms above Azhagar temple.
There is a famous legend associated with the temple - it is said that Avvaiyar, a famous tamil poet and a Muruga Bakthai(Muruga Devotee), came here when her knowledge was put to test by Lord Muruga, taking the form of a small boy. It is firmly believed that this episode took place at a tree near the temple and the tree is worshipped even today.
Here Murugan is worshiped along with his consorts Valli as Iccha Shakti and Devayani as Kriya Shakti and himself as Jnana Shakti. The idol of the lord in standing posture with a single face and four hands is kept between the idols of his consorts. The Vel (spear) of the lord made up of stone is of special significance and is worshipped with a great veneration by devotees.
A natural spring called Noopura Ganga with a temple dedicated to Raakkayi Amman is located at the top of the hill. Pilgrims to the temple take a dip in this small, sacred spring which is said to have originated from the anklet of Lord Vishnu. It is believed that the devotees who worship at this shrine are blessed with wealth and health. The Silambar river flows near the temple.
Saranam.com only facilitates rituals at temples for those who are unable to physically be present at the temple for various reasons.
1.We are not an agent/representative/official website of any temple and perform these services through our own network of representatives.
2.We are not a temple. We are not a religious movement. We get no money from particular religious institutions or leaders. We are not pushing a particular spiritual agenda.
3.All pujas or other rituals offered through our website do not involve any kind of animal sacrifice.
4.The charges for services include charges collected at the temple, cost of purchasing offerings, conveyance and various other charges towards fulfillment of the order and are subject to change from time to time without notice.
IMPORTANT NOTICE
The Commissioner, Hindu Religious and Charitable Endowments (HR&CE), Government of Tamilnadu, has raised certain objections regarding private entities offering spiritual services at temples under the control of the HR&CE. Hence we have temporarily suspended services at this temple through our website till the issue is resolved. Kindly accept our apologies for the inconvenience caused.
For more information please contact helpdesk@saranam.com.