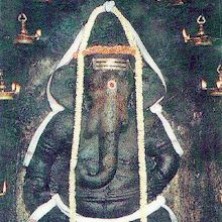 Sri Karpaga Vinayagar Temple
Pillayarpatti
Presiding Deity:
Karpaga Vinayagar
This village derives its name from the image of Lord Ganesha, known as Karpaga Vinayaka, carved on the wall of an ancient rock-cut temple. The Lord is seated and appears with only two arms, the left being on the right holding a modhaka. The trunk is turned to the right. There is no sacred thread on this Ganesha sculpture.
The word Vinayaga means "Incomparable Leader" Devotees worshipping Valamburi Vinayagar seated facing towards north, will be blessed with all kinds of wealth. Kubera, the Lord of Wealth is said to have worshipped at this temple. Goddess Laxmi, Saraswathy and Durga are found together in this temple.
The three Lingams - Thiruveeswarar, Marudheeswarar and Senchadeswarar and the three Goddesses - Sivagami amman, Vadamalar Mangaiamman and Soundara Nayaga Amman all appear together at the same place and bless the devotees.
It is believed that by worshipping Kathyayini Amman at this temple women get relived of Sevva Dosham which causes delay in marriage.
Saranam.com only facilitates rituals at temples for those who are unable to physically be present at the temple for various reasons.
1.We are not an agent/representative/official website of any temple and perform these services through our own network of representatives.
2.We are not a temple. We are not a religious movement. We get no money from particular religious institutions or leaders. We are not pushing a particular spiritual agenda.
3.All pujas or other rituals offered through our website do not involve any kind of animal sacrifice.
4.The charges for services include charges collected at the temple, cost of purchasing offerings, conveyance and various other charges towards fulfillment of the order and are subject to change from time to time without notice.
IMPORTANT NOTICE
The Commissioner, Hindu Religious and Charitable Endowments (HR&CE), Government of Tamilnadu, has raised certain objections regarding private entities offering spiritual services at temples under the control of the HR&CE. Hence we have temporarily suspended services at this temple through our website till the issue is resolved. Kindly accept our apologies for the inconvenience caused.
For more information please contact helpdesk@saranam.com.