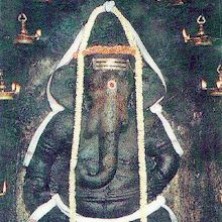 Sri Karpaga Vinayagar Temple
Pillayarpatti
Presiding Deity:
Karpaga Vinayagar
This village derives its name from the image of Lord Ganesha, known as Karpaga Vinayaka, carved on the wall of an ancient rock-cut temple. The Lord is seated and appears with only two arms, the left being on the right holding a modhaka. The trunk is turned to the right. There is no sacred thread on this Ganesha sculpture.
The word Vinayaga means "Incomparable Leader" Devotees worshipping Valamburi Vinayagar seated facing towards north, will be blessed with all kinds of wealth. Kubera, the Lord of Wealth is said to have worshipped at this temple. Goddess Laxmi, Saraswathy and Durga are found together in this temple.
The three Lingams - Thiruveeswarar, Marudheeswarar and Senchadeswarar and the three Goddesses - Sivagami amman, Vadamalar Mangaiamman and Soundara Nayaga Amman all appear together at the same place and bless the devotees.
It is believed that by worshipping Kathyayini Amman at this temple women get relived of Sevva Dosham which causes delay in marriage.