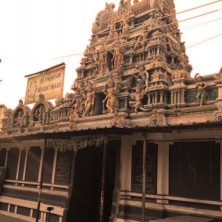 Sangupani Vinayagar Temple
Kanchipuram
Presiding Deity:
Sangupani Vinayaga
For those suffering from throat and nose related ailments offering a conch filled with honey at the Sangupani Vinayagar temple at Kanchipuram provides relief. Honey abhishekam (abhishek) is also recommended for singers who wish to maintain a good voice. The temple is located close to the Kamakshi Amman Temple in this temple town.
IMPORTANT NOTICE
The Commissioner, Hindu Religious and Charitable Endowments (HR&CE), Government of Tamilnadu, has raised certain objections regarding private entities offering spiritual services at temples under the control of the HR&CE. Hence we have temporarily suspended services at this temple through our website till the issue is resolved. Kindly accept our apologies for the inconvenience caused.
For more information please contact mahesh@saranam.com.