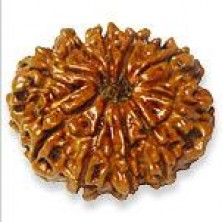 Ten Mukhi (Nepal)
Ten mukhi rudraksha is ruled by Lord Mahavishnu, Yama (God of death), Dus Mahavidyas and the ten directions. One who sees it or wears it gets eternal peace. This rudraksha works like a shield on one's body and the wearer gets immense protection from negative energies. Gives success in court cases, land deals and relieves wearer from debts and losses. This rudraksha is mentioned in ancient texts as one of the most powerful rudraksha which pacifies all the nine planets.

Lord Vishnu is said to possess also a special sword called Nadaka and a special bow called Sarnga. His wife is Goddess Lakshmi (also known as Shri), goddess of beauty and fortune. He rides a huge creature, half bird and half man, called Gandara. His home is in a heaven called Vaikuntha (where the Ganges River is believed to flow from its source at Vishnu's feet).The god has a thousand names, the repetition of which is regarded as an
act of devotion. The representing deity of 10 mukhi is Lord Narayana (The Preserver). It helps the wearer to overcome difficult times and ensures that the wearer and the family of the wearer is protected. It creates a feeling of security. It works like a shield on one's body and drives evils away. Wearer is protected from influence of evil spirit , ghosts and black magic. There is no ruling planet for this bead and it pacifies all negative planetary energy. One wears this by the blessings of Lord Mahavishnu. Excellent for narayana bhaktas (devotees). One gets the power to concentrate well. Also aids in devotion and meditation.

Symbol of: Lord Vishnu
Ruling Planet: No ruling planet
Recommended for: Pacifying nine planets.
Mantras
Shree Narayanaaye Namah
Shree Vishnavai Namah
Om Hreem Namah Namah
Avg. Size: 20-25mm
Origin:Nepal
NOTE:
RUDRAKSHA PRICES AND AVAILABILITY ARE SUBJECT TO FLUCTUATIONS. WE WILL LET YOU KNOW IF THERE ARE ANY CHANGES IN PRICE AS SOON AS WE RECEIVE YOUR ORDER.