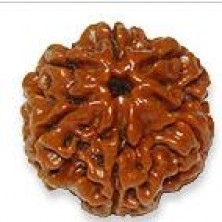 Six Mukhi (Nepal)
6 mukhi rudraksha is ruled by Lord Kartikeya and pacifies planet Mars. Gives wearer stability in life with willpower, grounding and focus . Makes wearer free from mental lethargy and emotional instability. Increases connection with mother earth. Wearer gets luck and assets of properties and vehicles.

6 mukhi Rudraksha is the center of the power of Lord Shiva's second son, Kumar Kartikeya. It gives learning, wisdom and knowledge and increases will power. Moreover, it saves us from the worldly sorrows. A combination of four face Rudraksha and six face Rudraksha enhances the vocal & mental power of the wearer amazingly. It is very good for company managers, businessmen, journalists and editors etc. Lord Kartikeya rules over planet Mars, so wearing this Rudraksha removes malefics associated with planet Mars.

The afflictions and influences of Mars can cause cuts, wounds, surgery, injury by weapons, itching of the skin, bone fractures, hemorrhoids, miscarriages and abortions. Wearing six Mukhi rudraksha helps in controlling the malefic effects of Mars and increases the concentration. Six Mukhi rudraksha is very dear to Lord Kartikeya and is the source of his energy.
Mantra
Aum Hreem Hum Namah
Size: 20 mm
Origin: Nepal
NOTE:
RUDRAKSHA PRICES AND AVAILABILITY ARE SUBJECT TO FLUCTUATIONS. WE WILL LET YOU KNOW IF THERE ARE ANY CHANGES IN PRICE AS SOON AS WE RECEIVE YOUR ORDER.