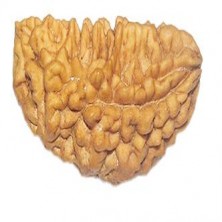 One Mukhi
The One mukhi Rudraksha is the symbol of Godhood, Supreme Truth and Attainment of Eternity. The One mukhi Rudraksha is itself Lord Shankar and it is the main among all rudrakshas of all faces. It is ruled by the Sun and enlightens the Super Consciousness. It brings the power of Dharana to the wearer meaning the power to concentrate the mind on an object. The wearer of One mukhi Rudraksha gets his mental structure changed and he begins to feel renunciation from the worldly affairs and naturally inclines towards GOD. His mind begins to concentrate on the Supreme Element that is Partattva Dharana cha jayate Tatprakashnam thus the discoverers of Aatma Tattva must wear One Mukhi Rudraksha .
NOTE:
RUDRAKSHA PRICES AND AVAILABILITY ARE SUBJECT TO FLUCTUATIONS. WE WILL LET YOU KNOW IF THERE ARE ANY CHANGES IN PRICE AS SOON AS WE RECEIVE YOUR ORDER.
This is bead from South India/ Srilanka and widely considered as substitute of the powerful one mukhi rudraksha which is highly praised in the ancient puranas. Bead from Nepal has not been found till date . One mukhi java is found to be most powerful for experiencing the effects of one mukhi as stated in Puranas which are health, wealth and attainment of supreme knowledge and Moksha. One mukhi Rudraksha is Shiva. Enlightens the Super Consciousness, provides improved concentration and mental structure changes specific to renunciation from worldly affairs. The wearer enjoys all comforts at his command but still remains unattached. Destroys all sins and leads one to liberation. Wearer becomes fearless.
Symbol of: Lord Shiva
Ruling Planet: Sun
Recommended for: Headache, Heart Disease and Right Eye Defect.
Mantras
Om Namah Shivaya
Om Hreem Namah
Related Products