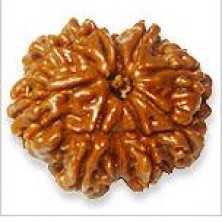 Nine Mukhi (Nepal)
Nine mukhi Rudraksha is ruled by Navdurga, according to Jabaloupanishad and ruled by Bhairav according to various Shastras. The wearer is blessed with lots of energy, owers, dynamism and fearlessness, which are needed to live a life of success. Gives Bhogha (worldly comforts) and Moksha (liberation). Removes malefics associated with planets Rahu.

9 mukhi Rudraksha is the form of the Goddess Durga (Shakti). It contains the power of Nine Deities. The worshippers of the supreme power Shakti must wear this Rudraksha. All the Rudraksha are the symbol of Lord Shiva but Nine faced Rudraksha contains special Nine qualities. It increases self-power. It makes us concentrate our mind and it also creates the belief that as by hiding the head into the lap of mother, all the fears of
a child finish, similarity its wearer becomes fearless.
The blessings of the Mother remain with him who always wears it. Nine faced Rudraksha gives the wearer both devotion and salvation. When invoked, the mother Goddess blesses the wearer with lot of energy, powers, Dynamism and fearlessness, which are useful to live a life of success. Gives Bhoga and Moksha. It's ruling planet is Rahu (Dragon's head).
Symbol of: Goddess Durga
Ruling Planet: Rahu
Recommended for: Intoxication, addictions, compulsive behavior, worries, fears, phobias, most psychological and psychiatric disorders.
Mantras
Om Hreem Hum Namah
Nav Durgayai Namah
Avg. Size: 20 mm
Origin: Nepal
NOTE:
RUDRAKSHA PRICES AND AVAILABILITY ARE SUBJECT TO FLUCTUATIONS. WE WILL LET YOU KNOW IF THERE ARE ANY CHANGES IN PRICE AS SOON AS WE RECEIVE YOUR ORDER.