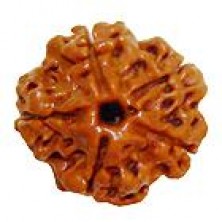 Five Mukhi (Nepal)
Five mukhi represents Rudra Kalagni. This highly auspicious rudraksha is important for people who wish to discover their higher selves meaning UpaGuru. Enhances awareness, memory, word power and intellect. This it is extensively used in malas for wearing and chanting mantras. This highly auspicious rudraksha connects wearer to grace of Lord Shiva. Removes malefics of planet Jupiter.

5 mukhi Rudraksha is the form of Rudra named Kaalagni. The wealth, in the form of learning that man gains in the world, should be apparent and permanent only then it is meaningful. Five faced Rudraksha is useful for this purpose. In the long run we lose our power to maintain the learning that we have gained and at last it vanishes. We forget the acquired learning or cannot remember the lost learning only after wearing the five faced Rudraksha.
Agni (fire) purifies the metals and similarly five faced Rudraksha rectifies all the vices and faults of Jeeva and makes him pure and Jeeva gains the form of Pashupati i.e. the Lord of all creatures after becoming free from the animal instincts. By wearing its mala the wearer's mind remains peaceful.
Mantra
Aum Hreem Namah
Avg.Size : 20mm
NOTE:
RUDRAKSHA PRICES AND AVAILABILITY ARE SUBJECT TO FLUCTUATIONS. WE WILL LET YOU KNOW IF THERE ARE ANY CHANGES IN PRICE AS SOON AS WE RECEIVE YOUR ORDER.