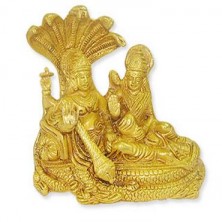 Vishnu lakshmi ji
Vishnu is one of the principal Hindu Gods, worshipped as the protector and preserver of the world and restorer of dharma. He rules over Peace, power, strength, compassion, love, abundance, success, victory. Lakshmi is wife of Vishnu and the goddess of wealth, fortune, power, luxury, beauty, fertility, and auspiciousness. She holds the promise of material fulfillment and contentment. She is described as restless, whimsical yet maternal, with her arms raised to bless and to grant her blessings.
In this Statue, Vishnu is depicted sitting on the great serpent Shesha snake along with His consort Mahalaxmi.
Design : Made in heavy shinning brass.
Height : 6.25 inches
Base : 6.5'' (L) x 3.25" (W)
Weight : 2.1 kgs
Product Price: RS: 5,200
NOTE:
RUDRAKSHA PRICES AND AVAILABILITY ARE SUBJECT TO FLUCTUATIONS. WE WILL LET YOU KNOW IF THERE ARE ANY CHANGES IN PRICE AS SOON AS WE RECEIVE YOUR ORDER.