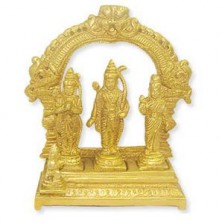 Ram Darbar
Ram is the model of reason, right action and commendable virtues. Ram represents an ideal man, as conceived by the Hindu mind. In the story of Ramayana, Ram's personality depicts him as the perfect son, devoted brother, true husband, trusted friend, ideal king, and a noble adversary. This combination of Sita and Ram as the model wife and husband, Laxman as the model brother and Hanuman as the model devotee is called Ram Darba
Design : Made in heavy shinning brass.
Height : 6 " inches
Base : 4.75" (L) x 1.5" (W)
Weight : 300 gm
Product Price: RS: 1,720
NOTE:
RUDRAKSHA PRICES AND AVAILABILITY ARE SUBJECT TO FLUCTUATIONS. WE WILL LET YOU KNOW IF THERE ARE ANY CHANGES IN PRICE AS SOON AS WE RECEIVE YOUR ORDER.