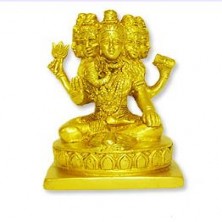 Pashupatinath in Brass
Pashupatinath Shiva with snake curled round the neck, magnificently and very attractively portrayed in heavy shining brass.
Pashupatinath is an avatar of Shiva, one of the Trinity of the Hinduism and also the male manifestation as opposed to Shakti. He is revered throughout the Hindu world especially in Nepal where he is regarded as the National God. He is considered as the protector of all the living organisms.
He is depicted with five faces. All these faces have different names and significance. The face facing east is known as Tatpurusha and the one facing south as Aghora. Similarly, the faces looking west and north are known by the name Sadhyojata and Vamadeva respectively.
Pashupatinath Shiva is considered highly auspicious and is said to have one of the highest frequency vibration rate. Blesses home with love, harmony and abundance. Shiva lingam connects a devotee with the Supreme Being – Lord Shiva.
Height: 5 inches
Base Dimension: 3" (L) X 3" (B) inches
Weight: 1062 gms.
P
roduct Price: RS: 2,425
NOTE:
RUDRAKSHA PRICES AND AVAILABILITY ARE SUBJECT TO FLUCTUATIONS. WE WILL LET YOU KNOW IF THERE ARE ANY CHANGES IN PRICE AS SOON AS WE RECEIVE YOUR ORDER.