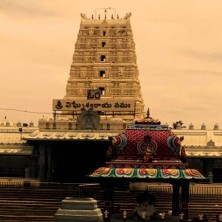 Svayambhu Sri Varasidhi Vinayaka Temple
Kanipakkam
Presiding Deity:
Vinyaka
The revered Ganesh temple at Kanipakam village in Chittoor district of Andhra Pradesh was established in the early 11th century by Chola King Kulothunga Chola I and enhanced by the Vijayanagara dynasty in 1336.The legend behind the origins of this temple is very interesting. Three brothers who were born blind, deaf and dumb earned a modest living by cultivating land. When the well they used for irrigation dried up, one of them got down to dig the well for water. As he proceeded, his spade struck a stone buried under. To his surprise the stone bled from point he had struck. When the brothers got down to investigate the blood mixed with water cured them of their disabilities. Villagers gathered around as news of this miracle spread and discovered a self manifested idol of Lord Ganesh.Till date the idol is worshipped as it was discovered - in the well. The water from the well is distributed to devotees. The Lord is offered only steamed food.Disputes and disagreements between relatives or friends are believed to be resolved if both sides worship at this temple.
Saranam.com only facilitates rituals at temples for those who are unable to physically be present at the temple for various reasons.
1.We are not an agent/representative/official website of any temple and perform these services through our own network of representatives.
2.We are not a temple. We are not a religious movement. We get no money from particular religious institutions or leaders. We are not pushing a particular spiritual agenda.
3.All pujas or other rituals offered through our website do not involve any kind of animal sacrifice.
4.The charges for services include charges collected at the temple, cost of purchasing offerings, conveyance and various other charges towards fulfillment of the order and are subject to change from time to time without notice.
IMPORTANT NOTICE
The Commissioner, Hindu Religious and Charitable Endowments (HR&CE), Government of Tamilnadu, has raised certain objections regarding private entities offering spiritual services at temples under the control of the HR&CE. Hence we have temporarily suspended services at this temple through our website till the issue is resolved. Kindly accept our apologies for the inconvenience caused.
For more information please contact helpdesk@saranam.com.