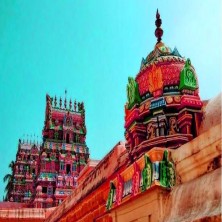 Koteeswarar Temple
Kottayur
Presiding Deity:
Koteeswarar
Kodi Vinayagar (Kodi - crore) is enshrined in the Kotteeswarar Temple at Kottayur on the Kumbakonam Swamimalai route. Offering worship to Him on Mondays,Wednesdays and Saturdays during Chandra Hora and on Pradosham is believed to multiply blessings exponentially. It also is supposed to enable mental agility and memory.
IMPORTANT NOTICE
The Commissioner, Hindu Religious and Charitable Endowments (HR&CE), Government of Tamilnadu, has raised certain objections regarding private entities offering spiritual services at temples under the control of the HR&CE. Hence we have temporarily suspended services at this temple through our website till the issue is resolved. Kindly accept our apologies for the inconvenience caused.
For more information please contact mahesh@saranam.com.