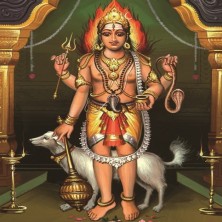 Kaal Bhairav Temple
Varanasi
Presiding Deity:
Kalbhairav
The temple is one of the oldest Shiva temples in Varanasi, India. Situated in Bharonath, Vishweshwarganj, this temple has great historical and cultural importance in Hinduism; especially amongst the locals
Saranam.com only facilitates rituals at temples for those who are unable to physically be present at the temple for various reasons.
1.We are not an agent/representative/official website of any temple and perform these services through our own network of representatives.
2.We are not a temple. We are not a religious movement. We get no money from particular religious institutions or leaders. We are not pushing a particular spiritual agenda.
3.All pujas or other rituals offered through our website do not involve any kind of animal sacrifice.
4.The charges for services include charges collected at the temple, cost of purchasing offerings, conveyance and various other charges towards fulfillment of the order and are subject to change from time to time without notice.