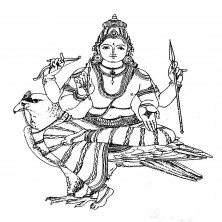 Thirukollikaadu Agneeswarar
Keeralathur
Presiding Deity:
Agneeswarar
This ancient temple dedicated to Lord Shiva was built using granite by the Chola kings at Thirukollikadu near Thiruthuraipoondi in Thiruvarur district. This temple does not have a tower like many other temples built in this era.Lord Shani is said to have prayed to Agneeswarar, for being blamed for the woes of humans. Lord Siva appeared before him and praised him for being a just planet and asked him to reside in the temple as Pongu Sani, abundantly showering his blessings on devotees.Lord Agni worhsipped the lord here and hence the presiding deity is known as Agneeswarar and the location came to be known as Agnipuri. Nalan after being rid of his Sani dosham by worshipping Sani Bhagwan at Tirunallar, got back his wife, children, kingdom and wealth after worshipping here. King Harichandra is also said to have bathed here and relieved of his doshaand hence the river where he bathed is named after him.The shrine for Sani Bhagavan is located in the south west corner and holds a plough and abhaya hastham in his right hand and a crow in his upper left hand and Uru hastham in his lower left hand. Offerring Oomatham flowers is said to cure mentally illness. Puja with Vanni leaves showers wealth and offering Kondrai flower gives peace & unity in the family.Navagrahas face one another here, which is unique to this temple. The malefic effects of Sani (seven and a half years) are alleviated by worshipping here.
Saranam.com only facilitates rituals at temples for those who are unable to physically be present at the temple for various reasons.
1.We are not an agent/representative/official website of any temple and perform these services through our own network of representatives.
2.We are not a temple. We are not a religious movement. We get no money from particular religious institutions or leaders. We are not pushing a particular spiritual agenda.
3.All pujas or other rituals offered through our website do not involve any kind of animal sacrifice.
4.The charges for services include charges collected at the temple, cost of purchasing offerings, conveyance and various other charges towards fulfillment of the order and are subject to change from time to time without notice.
IMPORTANT NOTICE
The Commissioner, Hindu Religious and Charitable Endowments (HR&CE), Government of Tamilnadu, has raised certain objections regarding private entities offering spiritual services at temples under the control of the HR&CE. Hence we have temporarily suspended services at this temple through our website till the issue is resolved. Kindly accept our apologies for the inconvenience caused.
For more information please contact mahesh@saranam.com.