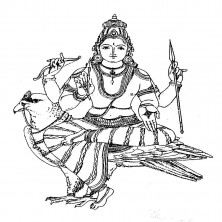 Magudeshwarar Temple
Kodumudi
Presiding Deity:
Magudeshwarar
This temple is dedicated to the Trimurti and hence we find shrines for Lord Brahma, Magudeshwarar (Lord Shiva) and Veeranarayanapperumaal (Lord Vishnu).In the battle between Aadhi Sesha and Vaayu pieces of the holy Meru are said to have been strewn at five different places which formed Swayambu linga Sivasthalas depicted by types of precious stones of which Kodumudi represents a diamond. The Sani Bhagwan shrine in this temple attracts a lot of devotees who wish to perform remedial pujas. This temple located at Kodumudi is known as Arulmigu Magudeshwarar & Veeranarayanapperumaal Temple
Saranam.com only facilitates rituals at temples for those who are unable to physically be present at the temple for various reasons.
1.We are not an agent/representative/official website of any temple and perform these services through our own network of representatives.
2.We are not a temple. We are not a religious movement. We get no money from particular religious institutions or leaders. We are not pushing a particular spiritual agenda.
3.All pujas or other rituals offered through our website do not involve any kind of animal sacrifice.
4.The charges for services include charges collected at the temple, cost of purchasing offerings, conveyance and various other charges towards fulfillment of the order and are subject to change from time to time without notice.
IMPORTANT NOTICE
The Commissioner, Hindu Religious and Charitable Endowments (HR&CE), Government of Tamilnadu, has raised certain objections regarding private entities offering spiritual services at temples under the control of the HR&CE. Hence we have temporarily suspended services at this temple through our website till the issue is resolved. Kindly accept our apologies for the inconvenience caused.
For more information please contact mahesh@saranam.com.