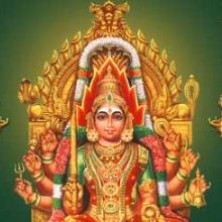 Samaypuram Mariamman Temple
Trichy
Presiding Deity:
Mariamman
The Maariamman Temple at Samayapuram in the vicinity of Tiruchirappalli (see below), is one of the well visited shrines in Tamilnadu, dedicated to Maariamman, a manifestation of the primeval energy Shakti as the mother Goddess. Local variations of the worship of Shakti, the mother Goddess are seen throughout the Indian subcontinent. Mariamman is a form of Shakti worshipped in Tamilnadu, and is associated with prosperity and health. Local beliefs associate this deity with cures for diseases such as small pox and chicken pox.

Legend has it that Shiva created Kali, out of the poison that he had swallowed, and decreed that he kill Daarukaasuran. Having originated from the Kaalakoota poison, she assumed the name Kaali. Mariamman is believed to be a form of Kaali, and is also known as Mahamaayi or Seethala Gowri. Samayapuram was a local capital of the Vijayanagar rulers in the vicinity of Tiruchirappalli, and was known as Vikramapuram. This temple has separate shrines for the processional image of Mariamman and the moolavar in the sanctum. There is also a shrine to Karuppannasaami a local deity.
Another interesting story about the origins of the temple describes an ivory idol of Mariamman being brought in procession by a king of Vijayanagar. The procession halted for a break at this location. When they wanted to proceed after resting they could not move the idol and hence left it there. This place was Samayapuram.
For 28 days in a year the Goddess is not offered cooked food as she fasts for the sake of the world. She is offered only tender coconut and buttermilk.
Saranam.com only facilitates rituals at temples for those who are unable to physically be present at the temple for various reasons.
1.We are not an agent/representative/official website of any temple and perform these services through our own network of representatives.
2.We are not a temple. We are not a religious movement. We get no money from particular religious institutions or leaders. We are not pushing a particular spiritual agenda.
3.All pujas or other rituals offered through our website do not involve any kind of animal sacrifice.
4.The charges for services include charges collected at the temple, cost of purchasing offerings, conveyance and various other charges towards fulfillment of the order and are subject to change from time to time without notice.
IMPORTANT NOTICE
The Commissioner, Hindu Religious and Charitable Endowments (HR&CE), Government of Tamilnadu, has raised certain objections regarding private entities offering spiritual services at temples under the control of the HR&CE. Hence we have temporarily suspended services at this temple through our website till the issue is resolved. Kindly accept our apologies for the inconvenience caused.
For more information please contact helpdesk@saranam.com.