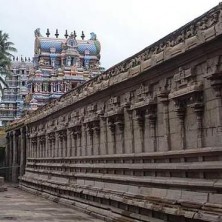 Thiru Moghur Sri Kaalamegha Perumal Temple
Madurai
Presiding Deity:
Kaalamegha Perumal
This divyadesam is located in Madurai district at a distance of about 8Kms from Madurai.
Legend has it that Lord Indra and the Devas were cursed and at the risk of loosing their wealth and power to the Asuras and sought the help of Lord Vishnu.he suggested that they along with the Asuras churn the ocean of milk to extract the nectar of eternal life. When the nectar emerged Lord Vishnu i sbelieved to have taken the form of a beautiful maiden, Mohini. The asuras were distracted by Mohini enabling the Devas to possess the nectar that restored their strength and wealth.Thus, this place has got its name 'thiru Moghur' to venerate the incarnation of Lord Vishnu as Mohini.
Here Lord Vishnu is known as "Kaalamegha Perumal" found in a standing posture facing east. Just as dark clouds bring rain to parched lands, the Lord bestows his blessings on those who seek him here.(Kaala- dark, megam - clouds).His consort Goddess Sri Mohanavalli Thayar.Lord Brahma worshipped Lord Vishnu on this sacred land as a mark of gratitude for safeguarding the sacred Vedas from the two demons Madhu and Kaitaba.
There are shrines for Chakkrathalwar with 16 arms holding fierce weapons, Acharyas & Alwars, Sri Andal, Garudalwar, Lord Krishna and Lord Anjaneya in the temple.