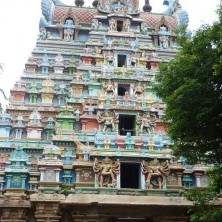 Thirumarainathar Temple
Tiruvaadavur
Presiding Deity:
Tirumarainaathar
Tiruvaadavur is the birthplace of one of the most revered saints in Tamil Saivite tradition,Manikkavacakar, who is the author of the celebrated Tamil works Tiruvaacakam, Tiruvempaavai, Tiruppalliezhuchi and Sivapuraanam.Tiruvaadavur is located near Melur near Madurai in Tamilnadu and has been a center of worship even during the time of Maanikkavaacakar.
The temple enshrines Lord Shiva as Tirumarainaathar and his consort Aranavalliyaar. Here Lord Shiva is also known as Aatmanathar, Prananathar and Jivanathar.Lord Shiva was worshipped here by Vaayu and by the Vedas. Legend has it that Manikkavaacakar, a royal minister of the Pandya Kingdom built the temple at Tirupperunturai out of funds allocated for the purchase of horses and when the time came for him to display the stock of horses, jackals miraculously turned into fine steeds. There is a shrine to Maanikkavacakar close to the Tiruvaadavur temple.
Just like the Madurai Meenakshi Somasundareswarar temple,Ambaal's shrine is situated to the right of Tirumarainathar's shrine. The outermost prakaram houses this shrine, the Makizha maram (stala vriksha) and the hall with one hundred pillars which is said to have been built by Maanikkavacakar himself. Also in this prakaram are the Bhairava Theertham and a shrine to Kaaleesar.The inner prakaram is centered around the Tirumarainaathar shrine and has a shrine to Manikkavacakar facing west and shrines for Vinayakar, Natarajar, Kaasi Viswanathar and Visalakshi, as well as images of Dakshinamurthy and Lingodbhavar.