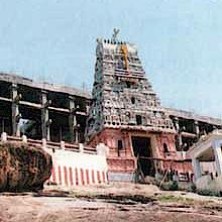 Ratnagiri Temple
Vellore
Presiding Deity:
Muruga
Lord Muruga resides in two forms in this temple, Thirukkolam (with his wives Valli and Deivanai) and the Gurukkolam. The other deities are Lord Ganesa, Lord sani and the Navagrahas. Lord Muruga's Thirukkolam is very special and attracts devotees from all over the world. In the beginning the temple was raised using sand and stones. Through the years the temple was renovated and was fully developed by 1980. The fully developed temple has a huge temple tower, mandapam (rest houses), parks, tanks, hospitals and schools surrounding it.
Saranam.com only facilitates rituals at temples for those who are unable to physically be present at the temple for various reasons.
1.We are not an agent/representative/official website of any temple and perform these services through our own network of representatives.
2.We are not a temple. We are not a religious movement. We get no money from particular religious institutions or leaders. We are not pushing a particular spiritual agenda.
3.All pujas or other rituals offered through our website do not involve any kind of animal sacrifice.
4.The charges for services include charges collected at the temple, cost of purchasing offerings, conveyance and various other charges towards fulfillment of the order and are subject to change from time to time without notice.