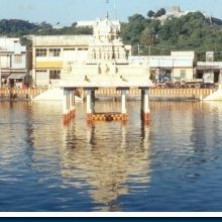 Sri Subramanyaswamy Temple, Thiruthani
Thiruthani
Presiding Deity:
Murugan
Tiruttani is a famous temple dedicated to Lord Subrahmanya and is situated 51 miles away from Chennai, Tamil Nadu. The temple is situated on a small hill, which is reached over a flight of 365 masonry stems.
It is one of the six revered shrines of Lord Skanda, Muruga or Karthikeya and represents the place where Subramanyar rested after destroying the demon Surapadman. It has been revered by Arunagirinathar in Tiruppugazh hymns. Ramalinga Adigalaar is also associated with this shrine.
According to one legend Subramanyar married Valli who is from the Vallimalai hills located nearby.Another legend has it that Skanda married Deivayanai the daughter of Indra, the King of the Gods. Lord Indra presented his elephant Airavatam as a gift to the couple. However,upon Airavatam's departure Indra's wealth dwindled.Lord Subramanya is said to have offered to return the elephant, but Indra refused to accept it and insisted that that the elephant face his direction. Hence the image of the elephant in this temple also faces east.It is also believed that Skanda bore the discus thrown by the demon Tarakasuran on his chest and hence the image of Subramanya in this temple bears a hollow in the chest and also that Skanda gifted the discus to Vishnu. Skanda imparted knowledge of Tamil to the sage Agasthyar and hence he is regarded as Veeramurthy, Gnanamurthy and Acharyamurthy in this shrine.
This temple has been patronized by the Vijayanagar rulers and local chieftains and zamindars and has also been mentioned in the Tirumurugaatruppadai composed by Nakkeerar. The hill temple can be reached by road, and also accessed through a flight of 365 steps. It has four prakarams and a series of towers. There is a shrine to Aabat Sahaaya Vinayakar who is said to have come to the aid of Skanda in winning Valli's hand in marriage.