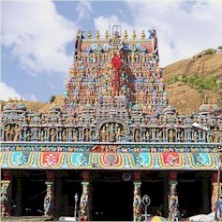 Sri Subramanya Swamy Temple, Tiruparamkundram
Tiruparamkundram
Presiding Deity:
Subramanya
This temple is located 12 kms off Madurai, a city in Tamil Nadu. Tamil Poetess Avvayyar, revered for her moral and ethical teachings, had darshan of Lord Muruga here.
Tirupparamkunram is one of the most revered temples in Tamilnadu and has been so for over 2000 years. It is home to Subramanyar and Paramgirinathar. It has been revered by the Tevaram hymns of the Nayanmars and by the Tiruppugazh hymns of Arunagirinathar.Tirupparamkunram is hailed as one of the 6 padai veedu shrines of Murugan and is visited by thousands throughout the year.The temple is located on the northern portion of the hill known as Gandhamadanam Kandamalai and Paramkunram.Thiruparamkunram is a shrine celebrating the marriage of Murugan with Deivayanai. This 2000 year old temple is still held in special regard by the city of Madurai and Tamilnadu. Tirupparamkunram enshrines Murugan as the leader of the armies of the Gods, and as the Lord of Devasena, the daughter of Indra, the King of the Gods.
Saranam.com only facilitates rituals at temples for those who are unable to physically be present at the temple for various reasons.
1.We are not an agent/representative/official website of any temple and perform these services through our own network of representatives.
2.We are not a temple. We are not a religious movement. We get no money from particular religious institutions or leaders. We are not pushing a particular spiritual agenda.
3.All pujas or other rituals offered through our website do not involve any kind of animal sacrifice.
4.The charges for services include charges collected at the temple, cost of purchasing offerings, conveyance and various other charges towards fulfillment of the order and are subject to change from time to time without notice.
IMPORTANT NOTICE
The Commissioner, Hindu Religious and Charitable Endowments (HR&CE), Government of Tamilnadu, has raised certain objections regarding private entities offering spiritual services at temples under the control of the HR&CE. Hence we have temporarily suspended services at this temple through our website till the issue is resolved. Kindly accept our apologies for the inconvenience caused.
For more information please contact helpdesk@saranam.com.