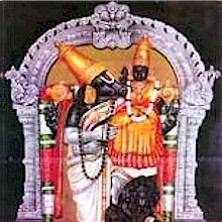 Nityakalyana Perumal Temple
Tiruvidandai
Presiding Deity:
Nitya Kalyana Perumal
Sage Kuni and his daughter performed penance seeking the blessings of Lord Narayana. Kuni alone reached heaven but not the daughter. Maharshi Narada advised the young girl that she should marrty of she wanted to reach heaven.Kalava Maharshi married her and they had 360 female children. He performed penance begging the lord to marry his daughters. A brahmmachari came along one day saying that he was on a Divyadesa Yatra. As he was very handsome the sage requested him to marry his daughters. He agreed and married one each day. On the last day, he revealed his true self. He was the Lord in the form of Varaha. He fused all the daughters into one and had them on His left lap. As Perumal had them together in one form on His Left Lap (left in Tamil is Idam) the place came to be known as Tiruvidavendhai which later came to be called Tiruvidandhai.
Women with delays and problems in marriage offer worship here as it is believed that the Lord will bless them with a suitable spouse.
Saranam.com only facilitates rituals at temples for those who are unable to physically be present at the temple for various reasons.
1.We are not an agent/representative/official website of any temple and perform these services through our own network of representatives.
2.We are not a temple. We are not a religious movement. We get no money from particular religious institutions or leaders. We are not pushing a particular spiritual agenda.
3.All pujas or other rituals offered through our website do not involve any kind of animal sacrifice.
4.The charges for services include charges collected at the temple, cost of purchasing offerings, conveyance and various other charges towards fulfillment of the order and are subject to change from time to time without notice.
IMPORTANT NOTICE
The Commissioner, Hindu Religious and Charitable Endowments (HR&CE), Government of Tamilnadu, has raised certain objections regarding private entities offering spiritual services at temples under the control of the HR&CE. Hence we have temporarily suspended services at this temple through our website till the issue is resolved. Kindly accept our apologies for the inconvenience caused.
For more information please contact helpdesk@saranam.com.