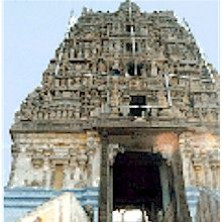 Lakshmi Narasimha Swamy Temple
Sholingur
Presiding Deity:
Lakshmi Narasimha Swamy
It isbelieved that even residing here for a matter of minutes (katikai or half an hour) would liberate one from the cycle of births and deaths and hence the name Katikachalam. (Ghatikachalam). Legend has it that Viswamitrar worshipped Vishnu for a 'katikai' and earned the title Bhrammarishi. The Saptarishis desirous of a vision of Narasimhavataram, were blessed after they prayed here for a 'katikai'. It is believed that those afflicted with psychological ailments, find cure upon residing here. There is also a legend that this hallowed hill which arose out of the surrounding plains, continued to rise in height much to the chagrin of Indra, who requested Balaramar to press it down to its present height. Another legend has it that a ruler engaged in hunting in this area, was guided by a divine source of light emanating from a deer which he had struck - to the path of non violence. It is believed that Hanuman had manifested himself in this form. Hanuman is believed to have been sent here by Rama to help a ruler kill demons in this area. Valmiki is said to have worshipped here. Another legend has it that upon the completion of his mission in Ramavataram, Rama intended to leave the mortal world here desirous of being with him, Hanuman accompanied him here. Upon reaching here it was discovered that demons were causing undue hardships to the saptarishis who were desirous of having a vision of Vishnu. With Rama's blessings Hanuman vanquished the demons. Rama provided the saptarishis with a vision of Narasimhavataram and an elated Hanuman bearing a conch and discus that had been given to him by Rama stood on the nearby hill. Another legend has it that the planet mercury - Budhan worshipped here and was relieved of a curse that had been placed on him by Durvasa muni.There are several literary works extoling the greatness of this shrine.
Saranam.com only facilitates rituals at temples for those who are unable to physically be present at the temple for various reasons.
1.We are not an agent/representative/official website of any temple and perform these services through our own network of representatives.
2.We are not a temple. We are not a religious movement. We get no money from particular religious institutions or leaders. We are not pushing a particular spiritual agenda.
3.All pujas or other rituals offered through our website do not involve any kind of animal sacrifice.
4.The charges for services include charges collected at the temple, cost of purchasing offerings, conveyance and various other charges towards fulfillment of the order and are subject to change from time to time without notice.
IMPORTANT NOTICE
The Commissioner, Hindu Religious and Charitable Endowments (HR&CE), Government of Tamilnadu, has raised certain objections regarding private entities offering spiritual services at temples under the control of the HR&CE. Hence we have temporarily suspended services at this temple through our website till the issue is resolved. Kindly accept our apologies for the inconvenience caused.
For more information please contact helpdesk@saranam.com.