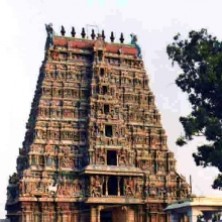 Azhagar Koil
Madurai
Presiding Deity:
Azhagar
This Divya Desam is widely known as Kallazhagar temple and is located at a distance of about 18 km from Madurai,near Pazhamudirsolai, one of the
six Padai Veedu shrines of Lord Muruga. Kallazhagar is enshrined at Azhagar Koyil while Srivilliputtur enshrines Kattazhagar and Madurai enshrines Koodalazhagar. The presiding deity Azhagar is in a standing posture facing east and is also known as Sundararajar, Paramaswamy and Rishabhadrinathar. He
is considered to be the tutelary deity of a tribe called Kallar of this region and hence came to be known as Kallazhagar.His consort is Sundaravalli.It is believed that the Vimanam, also known as the Somaskanda Vimanam or the Somachanda Vimanam was designed by Viswakarma. Legend has it that this shrine was built by Dharma Deva, upon whose request Vishnu took this place as his permanent abode.The temple is situated in a picturesque location with the hill nearby resembling the shape of a cow and hence named Vrishabhadri. The temple is surrounded by two forts, the outer Azhagapuri and the inner Hiranyapuri. The Tirumalai Nayakar mandapam is a grand structure while the Anna Vahana Mandapam has sculptures describing scenes from the Puranas. There are shrines to Valampuri Vinayakar,Saraswathi,Yoga Narasimhar, Karuppannaswami (deity of the Kallar tribe) and Raakkaayee Amman. The doors of the temple over the famous 18 steps in this temple, are considered to be a manifestation of Karuppannasami who is considered to be the gurardian deity here. The Noopura Ganga theertham, bathing in which is considered sacred on full moon, new moon and dwadasi, is the Silambaar river and is believed to have emanated from the anklet of Vishnu.
Saranam.com only facilitates rituals at temples for those who are unable to physically be present at the temple for various reasons.
1.We are not an agent/representative/official website of any temple and perform these services through our own network of representatives.
2.We are not a temple. We are not a religious movement. We get no money from particular religious institutions or leaders. We are not pushing a particular spiritual agenda.
3.All pujas or other rituals offered through our website do not involve any kind of animal sacrifice.
4.The charges for services include charges collected at the temple, cost of purchasing offerings, conveyance and various other charges towards fulfillment of the order and are subject to change from time to time without notice.
IMPORTANT NOTICE
The Commissioner, Hindu Religious and Charitable Endowments (HR&CE), Government of Tamilnadu, has raised certain objections regarding private entities offering spiritual services at temples under the control of the HR&CE. Hence we have temporarily suspended services at this temple through our website till the issue is resolved. Kindly accept our apologies for the inconvenience caused.
For more information please contact helpdesk@saranam.com.