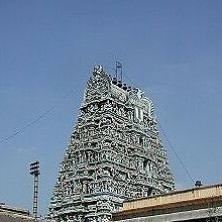 Parthasarathy Temple
Chennai
Presiding Deity:
Venkata Krisha Swamy
The temple is one of the Divya Desam temples and is located in Tiruvallikkeni ( Triplicane) in Chennai. The lilly (alli in Tamil) flowers in the temple tank lend the name Allikkeni. Tiruvallikkeni is one of the well visited Divya Desams, and is a well known landmark in Chennai.

There are five shrines here. The primary sanctum enshrines Venkatakrishnan with Rukmini, Balaraman, Satyaki, Anirudha, Pradyumna - in a standing posture facing east. The Utsavar here is Parthasarathy. Scars from arrows sent from Bheeshma's bow, borne by Krishna, are seen on the image of Krishna. There is a shrine to Ranganathar in a reclining posture(his consort is Vedavalli) in a separate sanctum. There is a shrine to Rama in a standing posture, flanked by Sita, Lakshmana, Bharata, Shatrugna and Hanuman facing east. There is also a shrine to Varadarajan mounted on Garuda facing east. There is also a shrine to Narasimhar in a seated posture facing west. Apart from these, there is a separate shrine for Andal. This is the only shrine among the 108 Divya Desams, where Krishna is seen enshrined with images of his family.

The presiding deity of this temple is Sri Venkata Krishna swamy. This deity is also called Geeta Charya with a conch in his right hand and the Gnana Mudra, (indication of knowledge) pointing to his holy feet signifying the highest idol of teaching, the essence of the Geetha.

It is believed that Venkateswara of Tirupati manifested himself as Parthasarathy here, and hence the name Venkatakrishnan. This shrine is considered equivalent to Tirupati, and Saturdays in the month of Purattasi are considered sacred here.

By whom and when the temple has been actually built is not known, but it is said the have been renovated by a King of the Pallava dynasty. There is a separate shrine within the main shrine for Sri Ranganatha, who is reposing on the Adi Sesha facing east and with his consort and with Brahma in the navel. All the alwars and Acharya of Sri Vaishnava sampradaya are installed in the temple with their respective utsava images. Separate shrines are built for Perialwar and Namalwar outside the temple and Thirumazhisai alwar inside the temple. The temple is also famous for the tank in front of it known as Kairavani.
Saranam.com only facilitates rituals at temples for those who are unable to physically be present at the temple for various reasons.
1.We are not an agent/representative/official website of any temple and perform these services through our own network of representatives.
2.We are not a temple. We are not a religious movement. We get no money from particular religious institutions or leaders. We are not pushing a particular spiritual agenda.
3.All pujas or other rituals offered through our website do not involve any kind of animal sacrifice.
4.The charges for services include charges collected at the temple, cost of purchasing offerings, conveyance and various other charges towards fulfillment of the order and are subject to change from time to time without notice.
IMPORTANT NOTICE
The Commissioner, Hindu Religious and Charitable Endowments (HR&CE), Government of Tamilnadu, has raised certain objections regarding private entities offering spiritual services at temples under the control of the HR&CE. Hence we have temporarily suspended services at this temple through our website till the issue is resolved. Kindly accept our apologies for the inconvenience caused.
For more information please contact mahesh@saranam.com.