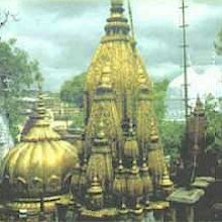 Viswanath Temple
Varanasi
Presiding Deity:
Viswanatha
The most religious place for any Hindu is undoubtedly Kasi. From time immemorial, the highest veneration is extended to this holy place by all classes of people. It is deemed the holiest place, due to the permanent presence of Lord Shiva, as Kasi Viswanath. The linga, being one among the 12 Jyotir linga in India attracts a lot of pilgrims through out the year. There are a number of ghats (temple tanks) around the temple, and a bath in these ghats is believed to redeem any one of his sins and mental afflictions. Each ghat has a legend that supports it. There is also a temple for Sri Annapurni, who is the goddess for food. Sri Visalakshi resides in another shrine as the Divine Consort.
Saranam.com only facilitates rituals at temples for those who are unable to physically be present at the temple for various reasons.
1.We are not an agent/representative/official website of any temple and perform these services through our own network of representatives.
2.We are not a temple. We are not a religious movement. We get no money from particular religious institutions or leaders. We are not pushing a particular spiritual agenda.
3.All pujas or other rituals offered through our website do not involve any kind of animal sacrifice.
4.The charges for services include charges collected at the temple, cost of purchasing offerings, conveyance and various other charges towards fulfillment of the order and are subject to change from time to time without notice.