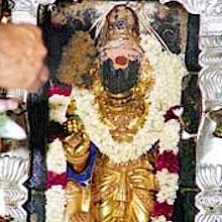 Darbaranyeswarar Temple (Sani Sthalam)
Tirunallar
Presiding Deity:
Sani
The siva temple is dedicated to Sri Dharabaranyeswara. King Nala attained emancipation here from the hardships and miseries to which Sani subjected him. Enshrined within the temple is Saniswara, the presiding deity. The devout believe that they can get rid of their curses and spells of bad luck if they pray in this temple. Pilgrims take a dip in the Nala Theertha and offer worship at the temple. The worship here includes lighting holy lamps with til (gingelly) seeds and oil. After prayers, balls of cooked rice are offered to the Crow, the mount of Saniswara. The festival Sani Peyarchi, which occurs once in two and a half years, attracts thousands of pilgrims. On this day, Saturn moves from one Rasi to another. The temple is located in Thirunallar, near Karaikal, in Tamil Nadu.
Saranam.com only facilitates rituals at temples for those who are unable to physically be present at the temple for various reasons.
1.We are not an agent/representative/official website of any temple and perform these services through our own network of representatives.
2.We are not a temple. We are not a religious movement. We get no money from particular religious institutions or leaders. We are not pushing a particular spiritual agenda.
3.All pujas or other rituals offered through our website do not involve any kind of animal sacrifice.
4.The charges for services include charges collected at the temple, cost of purchasing offerings, conveyance and various other charges towards fulfillment of the order and are subject to change from time to time without notice.
IMPORTANT NOTICE
The Commissioner, Hindu Religious and Charitable Endowments (HR&CE), Government of Tamilnadu, has raised certain objections regarding private entities offering spiritual services at temples under the control of the HR&CE. Hence we have temporarily suspended services at this temple through our website till the issue is resolved. Kindly accept our apologies for the inconvenience caused.
For more information please contact mahesh@saranam.com.