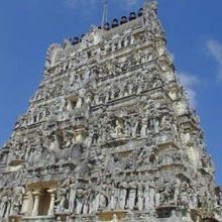 Sri Swetaranyeswarar Temple (Budhan Sthalam)
Chidambaram
Presiding Deity:
Budha
The Swetaranyeswarar Temple, popularly known as the Budhan Sthalam is one of the Navagraha Temples of Tamilnadu and is located at Tiruvenkadu near Mayavaram. Tiruvengadu is about 10Kms from Vaitheeswaran Koil and Sirkazhi. The presiding deity here is Lord Shiva and is known as Venkaatunadar and Sri Swetaranyeswarar. His consort(Ambal) is called Bhrama Vidya Nayaki.
Budhan(Mercury) is said to have worshipped Lord Shiva at this temple. The shrine for Budhan is placed outside the shrine of Ambal.This temple is known for it's three murthi's, three theerthams(tanks), three Shakthi's, and three Vrikshams(trees). Aalamaram ,Vilvam & Konrai are the "sthala vriksham"(holy trees) found here.The Aalamaram here is also known as the Akshayavadam (infinite or indestructible banyan tree).One of the three deities is Aghoramurthy or Aghora Veerabhadramurthy the most fierce among the five representations of Lord Shiva.This form of Shiva is worshipped with special pujas on Sunday nights.There are several shrines of significance including those to Durga and Kali.The saints Appar,Sundarar,Sambandhar and Manikavasagar have sung in praise of this temple.
Significance
Lord Shiva is believed to possess three eyes - Chandra, Surya and Agni. Since the tanks are blessed by them the Theertham(tanks) are called Soma Theertham ,Surya Theertham and Agni Theeertham.Bathing in these tanks and worshipping the Lord here for one "mandalam" (45 days) is believed to relieve couples from problems related to childbirth.