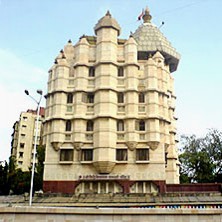 Siddhi Vinayak
Mumbai
Presiding Deity:
Siddhi Vinayak
The Shree Siddhivinayak Ganapati Mandir is dedicated to Lord Ganesh. It is located in Prabhadevi, Mumbai, Maharashtra. It was consecrated on Thursday, 19th November 1801.The wooden doors to the sanctum are carved with images of the Ashtavinayak (the eight manifestations of Lord Ganesh in Maharashtra). The inner roof of the sanctum is plated with gold.
The Siddhivinayak Mandir evolved from a small place of worship to the Grand Temple that stands today in the later half of the twentieth century.Siddhivinayak is well known as "Navasacha Ganapati" or "Navasala Pavanara Ganapati" in Marathi among devotees.
Saranam.com only facilitates rituals at temples for those who are unable to physically be present at the temple for various reasons.
1.We are not an agent/representative/official website of any temple and perform these services through our own network of representatives.
2.We are not a temple. We are not a religious movement. We get no money from particular religious institutions or leaders. We are not pushing a particular spiritual agenda.
3.All pujas or other rituals offered through our website do not involve any kind of animal sacrifice.
4.The charges for services include charges collected at the temple, cost of purchasing offerings, conveyance and various other charges towards fulfillment of the order and are subject to change from time to time without notice.
Note:
PUJAS ARE PERFORMED AT THE TEMPLE BY REPRESENTATIVES APPOINTED BY SARANAM.COM AFTER PAYMENT OF THE REQUIRED FEE TO THE TEMPLE. WE DO NOT HAVE ANY DIRECT RELATIONSHIP WITH THE Shree Siddhivinayak Temple Trust OR ANY OF ITS AGENCIES.
THE CHARGES MENTIONED INCLUDE THE CHARGES PAID TO OUR REPRESENTATIVE FOR PERFORMING THE PUJA AND OTHER CHARGES RELATING TO PERFORMANCE OF THE PUJA AND DISPATCH OF OFFERINGS TO OUR CHENNAI OFFICE.