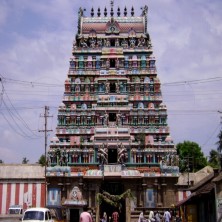 Nachiyar Kovil
Thirunarayoor
Presiding Deity:
Srinivasa
This temple lies in the Tanjore district of Tamil Nadu about 6 miles from Kumbakonam. The temple is popularly known as "Naachiyar Koil". Lord Naraiyur Nambi and Nachiyar preside here in the wedding posture. Special importance is given to thayar in this temple and always the first privilege to given to Nachiyar. The prasadam is also first offered to the Goddess. During the utsavam, Thayar in Anna vahanam proceeds first, followed by Naraiyur Nambi on KalGaruda Vahanam.The Narayur Nambi Sannadhi was once called as "Mani Mada kovil". The Chola King Koshenkannan donated money for the temple construction. There after Sadavarma Sundara Pandiyan took over the work and donated lands to the temple. The weight of KalGarudan grows exponentially when moved away from Garbhagraham. During Garuda Sevai,the number of people required to carry Garuda through each of the five prakarams of the temple keeps doubling from 4 to 128 people. Again while coming inside the temple, the weight keeps decreasing and the number of persons carrying keeps reducing to final 4 who carry it into the sannadhi.Another specialty of the temple is only in this divyadesam, where Brahma is in standing posture inside the temple.Worshipping Kal Garuda is said to free devotees from Naga dosha and bless childless couples.Yoga Narasimha, Hanuman, Sri Ram,Chakrapani are other major deities are placed along with the main idols in this temple.
Saranam.com only facilitates rituals at temples for those who are unable to physically be present at the temple for various reasons.
1.We are not an agent/representative/official website of any temple and perform these services through our own network of representatives.
2.We are not a temple. We are not a religious movement. We get no money from particular religious institutions or leaders. We are not pushing a particular spiritual agenda.
3.All pujas or other rituals offered through our website do not involve any kind of animal sacrifice.
4.The charges for services include charges collected at the temple, cost of purchasing offerings, conveyance and various other charges towards fulfillment of the order and are subject to change from time to time without notice.
IMPORTANT NOTICE
The Commissioner, Hindu Religious and Charitable Endowments (HR&CE), Government of Tamilnadu, has raised certain objections regarding private entities offering spiritual services at temples under the control of the HR&CE. Hence we have temporarily suspended services at this temple through our website till the issue is resolved. Kindly accept our apologies for the inconvenience caused.
For more information please contact helpdesk@saranam.com.