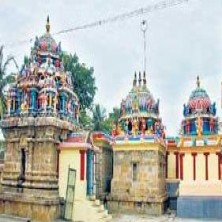 Ammankudi Mahishasoora Mardhini Temple
Kumbakonam
Presiding Deity:
Durga Parameswari
Ammankudi Mahishasuramardini Temple is known for alleviating various kinds of Dosha. The image of Saraswathy, the Goddess of Knowledge in this temple draws devotees especially those with children who want to excel in academics.

The temple located near Kumbakonam was built by Krishna Rama Piramapiran, who was a commander of King Rajaraja Chola. According to a legend, Goddess Durga destroyed Mahisasuran went on a penance for 12 years to atone for the killing of Mahishasura. The Lord appeared before her and relieved her from effects of her killing Mahisasura and and asked her to continue living there to rid the sins of all devotees who worshipped her here.The image of Lord Shiva worshiped by Goddess Durgai is called Kailasanathar and Goddess Durgai is known as Durga Parameswari.
The idol of Durga in Ammankudi Durgai Temple is very unique since she is seen with eight hands holding weapons used to destroy Asuras including one that holds Mahisasuran's head (This posture is referred to as Surasamharam)but her face bears a very benevolent smile indicating that she will protect her devotees by destroying sin.The idol of Goddess Saraswathi is also unique as she is seen without the Veena in her hands.

Pujas for problems related to marriage are performed every Tuesday,while pujas for alleviating the malefic effects of Rahu Ketu dosha are performed every Tuesday and ashtami.For those in debt and other financial problems pujas are performed on Friday and Mondays are for pujas for child birth.The Rahu Kala puja on Tuesdays are performed for relief from disease, victory in litigation and for career realted issues.For longevity pujas are performed on Saturday.
Saranam.com only facilitates rituals at temples for those who are unable to physically be present at the temple for various reasons.
1.We are not an agent/representative/official website of any temple and perform these services through our own network of representatives.
2.We are not a temple. We are not a religious movement. We get no money from particular religious institutions or leaders. We are not pushing a particular spiritual agenda.
3.All pujas or other rituals offered through our website do not involve any kind of animal sacrifice.
4.The charges for services include charges collected at the temple, cost of purchasing offerings, conveyance and various other charges towards fulfillment of the order and are subject to change from time to time without notice.
IMPORTANT NOTICE
The Commissioner, Hindu Religious and Charitable Endowments (HR&CE), Government of Tamilnadu, has raised certain objections regarding private entities offering spiritual services at temples under the control of the HR&CE. Hence we have temporarily suspended services at this temple through our website till the issue is resolved. Kindly accept our apologies for the inconvenience caused.
For more information please contact helpdesk@saranam.com.