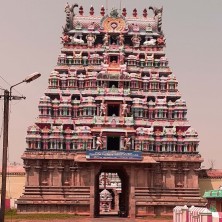 Sakshinatheswarar Temple
Kumbakonam
Presiding Deity:
Sakshinatheswarar
The temple is located off the Kumbakonam - Swamimalai Road. Within the temple is a shrine to Pralayam kaatha Vinayagar (Lord Ganesh who protected from the deluge). The idol is made out of material from the ocean,like sea foam and shells and hence absorbs honey poured during the abhishekam (holy bath) performed during Vinayak Chathurthi, symbolising absorption of all falshood that resides within people and liberating them.
According to legend, a groom was bitten by a snake a day before his marriage and was brought back to life by Saint Gnanasambandar's appeal to Lord Shiva. The marriage was then conducted with Lord Shiva as the witness(Sakshi) and hence Lord Shiva is knkown as Sakshinathar. An interpretation of this story is that one has to try to remain an honest witness to ones own actions, give up falsehood and lead an honest life. The Lord supports and blesses one who yearns to be truthful.
This temple is also one of the 24 temples associated with the worship of Lord Dakshinamurthy. Devotees offer worship for marriage, conception and for education.