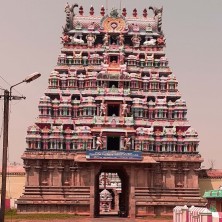 Sakshinatheswarar Temple
Kumbakonam
Presiding Deity:
Sakshinatheswarar
The temple is located off the Kumbakonam - Swamimalai Road. Within the temple is a shrine to Pralayam kaatha Vinayagar (Lord Ganesh who protected from the deluge). The idol is made out of material from the ocean,like sea foam and shells and hence absorbs honey poured during the abhishekam (holy bath) performed during Vinayak Chathurthi, symbolising absorption of all falshood that resides within people and liberating them.
According to legend, a groom was bitten by a snake a day before his marriage and was brought back to life by Saint Gnanasambandar's appeal to Lord Shiva. The marriage was then conducted with Lord Shiva as the witness(Sakshi) and hence Lord Shiva is knkown as Sakshinathar. An interpretation of this story is that one has to try to remain an honest witness to ones own actions, give up falsehood and lead an honest life. The Lord supports and blesses one who yearns to be truthful.
This temple is also one of the 24 temples associated with the worship of Lord Dakshinamurthy. Devotees offer worship for marriage, conception and for education.
Saranam.com only facilitates rituals at temples for those who are unable to physically be present at the temple for various reasons.
1.We are not an agent/representative/official website of any temple and perform these services through our own network of representatives.
2.We are not a temple. We are not a religious movement. We get no money from particular religious institutions or leaders. We are not pushing a particular spiritual agenda.
3.All pujas or other rituals offered through our website do not involve any kind of animal sacrifice.
4.The charges for services include charges collected at the temple, cost of purchasing offerings, conveyance and various other charges towards fulfillment of the order and are subject to change from time to time without notice.
IMPORTANT NOTICE
The Commissioner, Hindu Religious and Charitable Endowments (HR&CE), Government of Tamilnadu, has raised certain objections regarding private entities offering spiritual services at temples under the control of the HR&CE. Hence we have temporarily suspended services at this temple through our website till the issue is resolved. Kindly accept our apologies for the inconvenience caused.
For more information please contact helpdesk@saranam.com.