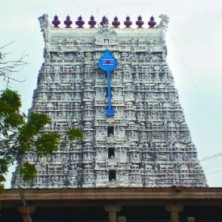 Sri Subrahmanya Swami Temple, Tiruchendur
Tiruchendur
Presiding Deity:
Senthilandavar
It was at Tiruchendur that Lord Murugan arrived with his band of warriors to fight against an Asura named Soorapadma. Hence this temple constructed to signify this victory.Soorapadma was a very powerful Asura who caused immense hardships to Devas and mankind alike by his wicked deeds. The Devas appealed to Lord Shiva to spare them from the tortures of Soorapadma. Lord Shiva in response to their appeal told them that He would produce a Son from His Sakti to annihilate Soorapadma.
Lord Shiva generated six powerful sparks from His third eye called Netrikkan. Lord Vayu (god of air) and Lord Agni (god of fire) carried these sparks to river Ganges. Goddess Ganga carried them to Saravana Poygai, a holy pond.The sparks became six divine small male babies. By God's grace, six divine water nymphs (the six Krittikas) nurtured these babies.
When Lord Shiva and Parvati Devi came to earth, Goddess Parvati embraced all the six infants at once and they merged into a single child with six faces and twelve hands. From Goddess Parvati Devi's anklets, nine shaktis appeared. Veerabahu and lakhs of soldiers emerged from these Nava Shaktis. These men headed by Veerabahu became the warriors of Lord Murugan. Lord Shiva for His part gave Lord Murugan a vel (spear) called Vetrivel destined to give success at all times. He also endowed him with eleven Rudras. Eleven Rudras were changed into eleven arms.
With the blessings of His divine parents, Lord Murugan came to Tiruchendur with His armed group. He immediately sent Veerabahu as an emissary to Soorapadma and asked him to release all the Devas imprisoned by him. But the Asura refused. So Lord Murugan had no option but to wage war against Soorapadma and his legions which lasted for ten days.Lord Murugan defeated the Asuras and converted Soorapadma into a peacock and a cock. The peacock or Mayil became the vehicle of Lord Murugan. Therefore He is also called Mayilvahanan. Ceval or cock adorned his flag.Hence,He is called Ceval kodiyon.Since Lord Murugan and the devas emerged victorious at Tiruchendur, it is also called as Jayanti Nagar as Jaya means victory.
Lord Murugan blesses everyone who worships Him. He extends His arul or supreme grace to all those who pray before Him. He removes all the ills of people who come to Him. He never lets down His devotees. Worshipping Lord Murugan at Tiruchendur and seeking His blessings will benefit all in every possible way and result in a blemishless and peaceful life.
Saranam.com only facilitates rituals at temples for those who are unable to physically be present at the temple for various reasons.
1.We are not an agent/representative/official website of any temple and perform these services through our own network of representatives.
2.We are not a temple. We are not a religious movement. We get no money from particular religious institutions or leaders. We are not pushing a particular spiritual agenda.
3.All pujas or other rituals offered through our website do not involve any kind of animal sacrifice.
4.The charges for services include charges collected at the temple, cost of purchasing offerings, conveyance and various other charges towards fulfillment of the order and are subject to change from time to time without notice.
IMPORTANT NOTICE
The Commissioner, Hindu Religious and Charitable Endowments (HR&CE), Government of Tamilnadu, has raised certain objections regarding private entities offering spiritual services at temples under the control of the HR&CE. Hence we have temporarily suspended services at this temple through our website till the issue is resolved. Kindly accept our apologies for the inconvenience caused.
For more information please contact helpdesk@saranam.com.