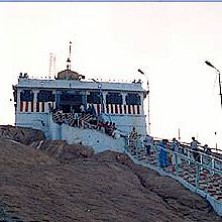 Thayumanavar Temple
Trichy
Presiding Deity:
Thayumanavar
The lingam is imposing and over five feet high. The legend of Thayumanaswamy is a moving illustration of the maternal compassion of God towards His devotees. Legend has it that when Ratnavati, a great devotee of the Lord, became pregnant her mother went to stay with her. Ratnavati stayed on the north bank of the Cauvery. As the time for delivery approached, Ratnavati's mother had to go to Tiruchi, crossing the river. The river was in spate, making it impossible for her to return to her daughter's side. A worried Ratnavati prayed to the Lord and very soon her mother was by her side. The baby was safely born. After a day or two, when the flood waters receded, Ratnavati's mother came back home and asked her how she had managed all alone. The stunned Ratnavati realised that the Lord Himself had come to her aid in her own mother's form. Thayum ana in Tamil means the one who became the mother. Devotees offer a big bunch of plantains to the Lord for safe and easy childbirth.
Saranam.com only facilitates rituals at temples for those who are unable to physically be present at the temple for various reasons.
1.We are not an agent/representative/official website of any temple and perform these services through our own network of representatives.
2.We are not a temple. We are not a religious movement. We get no money from particular religious institutions or leaders. We are not pushing a particular spiritual agenda.
3.All pujas or other rituals offered through our website do not involve any kind of animal sacrifice.
4.The charges for services include charges collected at the temple, cost of purchasing offerings, conveyance and various other charges towards fulfillment of the order and are subject to change from time to time without notice.
IMPORTANT NOTICE
The Commissioner, Hindu Religious and Charitable Endowments (HR&CE), Government of Tamilnadu, has raised certain objections regarding private entities offering spiritual services at temples under the control of the HR&CE. Hence we have temporarily suspended services at this temple through our website till the issue is resolved. Kindly accept our apologies for the inconvenience caused.
For more information please contact helpdesk@saranam.com.