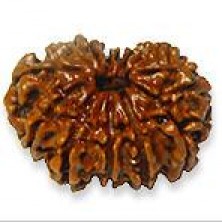 Twelve Mukhi(Nepal)
12 mukhi Rudraksha is ruled by Lord Sun. Wearer gets the quality of the sun - to rule and shine with brilliance, radiance and power . Releases stress, anger, worries, suspicion and low self esteem. Wearer is blessed with confidence, self power, energy and motivation in life. The 12 Mukhi Rudraksha is the Centre of Brilliancy and Lustre and Radiance and Strength of 12 forms of the God The Sun (SURYA). The wearer of this Rudraksha gets the quality of Surya to move continuously with brilliant radiance and strength. This Rudraksha gives knowledge and riches and all the earthly pleasures and is found miraculously effective.
Symbol of: Lord Sun
Ruling Planet: Sun
Recommended for: Heart Disease, Lung Disease, Skin Disease, Hiatus of Stomach, Esophagus, and Bowel Problems.
Mantras
Shree Suryay Namah
Om Krom Srom Rom Namah
Avg.Size: 20-30mm
NOTE:
RUDRAKSHA PRICES AND AVAILABILITY ARE SUBJECT TO FLUCTUATIONS. WE WILL LET YOU KNOW IF THERE ARE ANY CHANGES IN PRICE AS SOON AS WE RECEIVE YOUR ORDER.