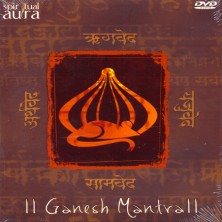 Ganesh Mantra - DVD
Ganesha Mantras are know as siddhi mantra. Each and every mantra is full of energy and power of lord ganesha. It is believed that mantra of ganesha when chanted with genuine devotion give positive results.

Contains:
Aum vakratundaya hum
Aum kshipra prasadaya namah
Aum sumukhaya namah
Aum ekdantaya namah
Aum kalilaya namah.

NOTE:

RUDRAKSHA PRICES AND AVAILABILITY ARE SUBJECT TO FLUCTUATIONS. WE WILL LET YOU KNOW IF THERE ARE ANY CHANGES IN PRICE AS SOON AS WE RECEIVE YOUR ORDER.