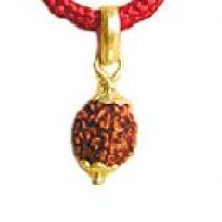 Four Mukhi (java)
Four mukhi represents the four faced God Brahma. The wearer gains power of knowledge and creativity. Expands memory power, vocal power, wit and intelligence. Wearer is blessed with melodious speech. Lord Brahma rules over planet Jupiter, so four mukhi removes malefics associated with Jupiter.

4 mukhi Rudraksha has four linings from head to bottom at equal distance. Its ruling planet is Jupiter. The power of Brahma exists in its whole effectiveness and Divinity. Being influenced by the creative wisdom of the four headed Lord Brahma, it gives the wearer the creative power and provides him learning and knowledge. The dull mined students must wear it. And it is beneficial to scientists, researchers, intellectuals, artists, writers and journalists. In mythology it represents Goddess Saraswati and Brahma. Malefic effects of Jupiter include intellectual dullness of mind, lack of grasping and understanding power, difficulty in effective communication and also neurotic conditions of mind. This mukhi also governs logical and concrete and structural thinking. It increases wit and intelligence. If the three beads of four faced Rudraksha are fastened in the right hand nobody can be stand to face to the wearer.
Mantra
Aum Kleem Namah

Size 10 -12 mm
Origin : Indonesia
NOTE:
RUDRAKSHA PRICES AND AVAILABILITY ARE SUBJECT TO FLUCTUATIONS. WE WILL LET YOU KNOW IF THERE ARE ANY CHANGES IN PRICE AS SOON AS WE RECEIVE YOUR ORDER.