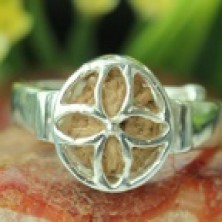 9 Mukhi Rudra Ring - Women
This elegant ring in pure silver designed with a 9-Mukhi Rudraksha is a perfect talisman with bhasma and metal of planet Rahu enclosed in tubes, and beeja mantra of planet Rahu inscribed on its sides.
9 mukhi provides worldly comforts and desire fulfillment. It bestows courage to win over all kinds of enemies, and destroys ones sins and worries. This Rudraksha is ruled by planet Rahu. It is beneficial for those suffering from the malefic of Rahu. It is ruled by Goddess Maha Durga.
Rudraksha beads may be worn as necklaces, bracelets, rings or lockets. This 9-Mukhi Rahu planetary ring is convenient to wear and bestows you the grace of Mother divine. Made in pure silver in an elegant design suitable for female.
Origin: Java
Ruling God: Goddess Maha Durga
Ruling planet: Rahu
Benefits: Courage, Removes Sins and Worries, Triumph over enemies, Positivity and Fearlessness
Wearing Method: Please wear on Index finger
Weight - Approx. 10 to 12 gms