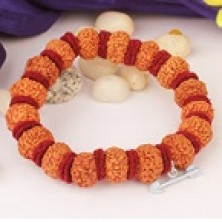 9 mukhi durga bracelet - Java
For: For energy, power, protection and abundance.
9 mukhi Rudraksha represents Goddess Durga (Shakti). She is Manifestation of Kali (protection), Saraswati ( Knowledge ) and Mahalaxmi ( Wealth). Wearer is blessed with energy, powers, Dynamism, fearlessness, knowledge and abundance.
Bead size: Approx 14mm
Length: 8 inches
Heals cases of depression, Alzheimer's disease, multiple scelerosis, parkinson's disease, paralysis, Epilepsy, depression, Schizophrenia, migraines, headaches, diabetes, Coma, Speech difficulties and Blood diseases.