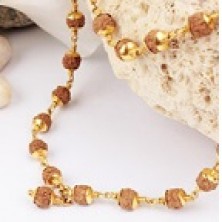 5mm chikna beads mala in Pure gold caps
The exquisite mala with five mukhi Rudraksha beads creatively knotted and capped in pure gold can be used for daily wear. Chikna beads are found in the Kediri region of Indonesia and are most sought after for their fine texture.
Five mukhi Rudraksha is highly revered by Lord Shiva devotees and is ruled by Jupiter planet and enhances wisdom, optimism, intellect and creativity. The healing properties include curing ailments related to stress, thyroid and low immunity.