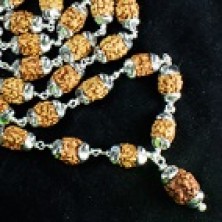 3 mukhi Agni mala in silver caps
Sacred Rudraksha mala contains uniform, smooth and high quality three mukhi Rudraksha beads from Java capped in pure silver. Three mukhi Rudraksha represents Agni Dev, the fire god that helps burn the negative effects and memories of past Karma, reduces stress, boosts self-esteem and helps attain success. It also heals ailments related to liver and stomach.
The uniform three mukhi beads mala with its competence to liberate a person from the cycle of birth and death is ideal for chanting mantras and wearing every day.
Ruling deity: Agni
Ruling planet: Sun
Mantras:
Beej Mantra: Om Kleem Namah
Planet Mantra: Om Hreem Suryay Namah
Deity Mantra: Om Agni Devaya Namaha
Mala strung according to Rudraksha Ratna Science Therapy