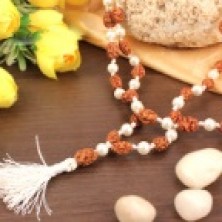 2 mukhi with Pearl mala
Symbolizing united form of Lord Shiva and Goddess Parvati, the two mukhi rudraksha bead promotes unity, harmony and improves relationships. It heals your mind, kidney and intestine related ailments. You can offer prayers and wear this mala every day to sooth the malefic of Planet moon and attain peace and harmony.
Description: Rare mala of uniform 2 mukhi Java with pearl beads.
Bead Size: 10mm (Rudraksha) x 6mm (Pearl)
No. of beads: 37 (Rudraksha) x 36 (Pearl)
Length: 27 inches
Ruling deity: Shiva
Ruling planet: Moon
Mantras:
Beej Mantra: Om Namah
Planet Mantra: Om Som Somaaya Namaha
Deity Mantra: Om Namah Shivaye
Mala strung according to Rudraksha Ratna Science Therapy