Talisman
The word "Talisman," derived from the Greek verb "teleo," means, primarily, to accomplish, or bring into effect. Talismans are objects that are imbued with energy or magical powers. Whatever your talisman is, its purpose is to empower you to make transformations that you feel cannot be made without its help, whether it is to attract more prosperity into your life or to add protection from real or imagined dangers. Most talismans are made for protection..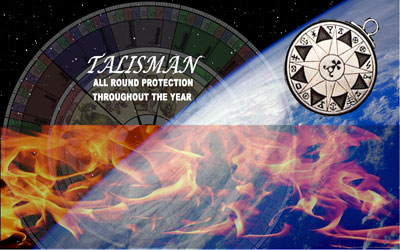 This is the reason we have named this subscription TALISMAN, as it combines Astrology and Remedial Pujas and Homams to ensure all round benefit for you throughout the year.
How it works
Your horoscope will be analysed on a continuous basis and pujas and homams will be performed depending on the planetary positions in your horoscope. This means that one of our astrologers will be constantly monitoring your horoscope and recommend pujas and homams to alleviate the malefic infuence and enhance the beneficial influence of various planets that influence your life. In addition we will also perform the pujas or homams recommended. Of course, we will let you know in advance what pujas or homams are being performed and when.
The subscription charges cover both the astrological analysis and the charges for the pujas and/or homams performed throughout the period of your subscription.
Benefits
Dedicated monitoring of your horoscope by our expert astrologers throughout the entire period of your subscription..
Pujas and homams relevant to the needs of your horoscope performed every month without your having to order through the website every time a recommendation is made.
$1000 in savings per year
Immunity against price escalation for the entire period of your subscription.
All homams are performed EXCLUSIVELY on your behalf and are not part of the regular Group Homams performed.
Easy payment options of just $275 per month charged to your card every month
How much does this cost you per year?
Non-Members

TALISMAN

Members
Pujas
$500
NA
Homams
$2800
NA
Astro Consultation
$400
NA
Shipping
$190
NA
Total
$3890*

$2750
You save over $1000 per year. Moreover, you pay just $275/month in 10 monthly installments (1 yr Subscription) OR
$270/month in 20 monthly installments (2 yr Subscription)
You can subscribe for a maximum period of TWO years in case you prefer to pay in monthly installments.

*The above estimate has been drawn assuming that a minimum of 2 homams and 2 pujas per month may have to be performed. This does not mean that only 2 homams and 2 pujas will be performed. The schedule of pujas and homams will depend on the analysis of your horoscope.
How to subscribe?
Send an email to mahesh@saranam.com with the following information.
1.Number of years for which you would like to subscribe.

2.Birth Details & Personal information
| | | |
| --- | --- | --- |
| Date of Birth | : | |
| Time of Birth | : | |
| Place of birth | : | |
| Sex | : | |
| Marital Status | : | |
| Occupation | : | |
| Location | : | |
| No.of Children | : | |
3.Mode of Payment
PayPal
OR
Bank Transfer

Please remember that the subscription is for one person only as all pujas and homams are performed based on the analysis of your horoscope.
How to Pay?
Click on the "Subscribe" button below to enable your card to be charged through PayPal in monthly installments or you can transfer the funds directly from your bank to ours (we will send you the account information and SWIFT codes if you have marked this option in your mail)
OPTIONS
CLICK HERE TO SUBSCRIBE FOR 1 YEAR
CLICK HERE TO SUBSCRIBE FOR 2 YEARS