Navagraha Homam
Venue :
Chennai
Date :
June 25, 2022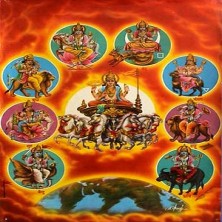 The Navagraha Homam is performed to remove all obstacles in life and attain 'Ayur, Arogya and Saukhyam' (longevity, health and happiness).
The Homam is performed after conducting a Navagraha Pooja and nine varieties of flowers, nine cereals (Nava Dhanya),nine vastrams (fabric of different colours),and nine types of Naivedyams are used for the pooja. Each Graha is worshipped with a specific flower. Nine types of Chamatas (twigs)are used.
This homam has the power to counter flaws in the horoscope and enable a person to prosper in life in case astrological defects are the main blocks to well-being. The homam is done to appease the nine planets i.e. the Sun, Moon, Mars, Mercury, Jupiter, Venus, Saturn, Rahu, and Ketu and is considered to be an effective remedy for Navagraha Dosha.
PARTICIPATE IN THE NAVAGRAHA HOMAM