MAHAGANAPATHY HOMAM
Venue :
Chennai
Date :
February 08, 2019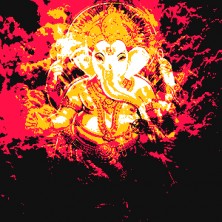 Lord Ganesh is one of the most revered and loved deities. He is also one of the most commonly associated symbols of Hinduism,
He is beieved to solve all kinds of troubles and touch all aspects of the human life with his holy presence and is hence is known as Vighnaharta or Vigneshwara – the remover of hurdles,
"Gana" is a group of eight vasus (Vasu refers to a direction or the guardian deity of of the directions). Sri Ganapati is the master of the directions.Other deities cannot reach the site of any ritualistic worship without his consent. Hence Lord Ganpati is always worshipped first and before beginning anything new.
Performing Ganapathy Homam will bestow prosperity, health and wealth and is performed on all auspicious occasions.Those running Ketu dasa or bhukti or have some dosha of Ketu in the horoscope, can perform Ganapathy Homam to alleviate the malefic effects.
PARTICIPATE IN THE MAHAGANAPATHY HOMAM