Narasimha Jayanti and Vaikasi Visakam
Venue :
Chennai
Date :
May 20, 2016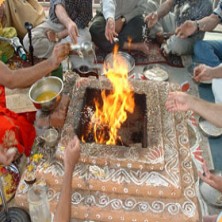 Narasimha Jayanti
20th May 2016
Narasimha Jayanti is observed on the Shukla Chaturdashi (fourteenth day of the bright fortnight) in the month of Vaishakha (May), the day Lord Krishna manifested as Lord Narasimha,the 4th incarnation of Lord Vishnu, the half-lion half-man incarnation, to protect Prahlada from his demonic father Hiranyakashipu.Hiranyakashipu was blessed by Lord Brahma that he could not be killed by any human being, demigod or animal or any other entity; nor he could be killed by any weapons neither during day nor night. Hence, the Lord appeared in half-man half-lion form and killed him at twilight, satisfying all conditions.Narasimha Jayanti is observed on Vaishakha Shukla Chaturdashi. Devotees eat a single meal the day before Narasimha Jayanti.
Vaikasi Visakham
21st May 2016
The hallowed full moon day in the month of Vaikāsi, under the Visākam star is the Vaikāsi Pournima.Vaikasi Visagam, or Vaigasi Visakam, is the day when Lord Muruga or Kartikeya, incarnated on earth. Muruga, the general of the army of devas, is also known as Skanda, Kanda, Subrahmanya and Kartik.
It is well known that the asterism Visākam is considered to be the birth star of Murugan who is called Visākan. The Visāka asterism is a combination of three stars which shine brightly in the sky and its pattern in the sky resembles the torana or entrance. It is the fourteenth asterism in the month of Vaikāsi when the sun's vernal equinox falls which accounts for the hot days during this month.
Vaikāsi Visākam is important to the Saivites, Vaishnavites and the Buddhists. To the Saivites, it is the day of the descent of Murugan; to the Vaishnavites it is Periyalvar's jayanti and to the Buddhists it is the day of the great miracles of nativity, enlightenment and maha samadhi of Buddha.
CLICK HERE TO PARTICIPATE IN THE PURUSHA SOOKTHA AND SUBRAHMANYA HOMAMS