Mangal Homam
Venue :
Chennai
Date :
June 16, 2015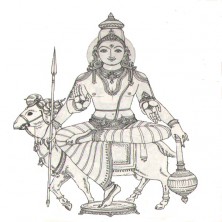 The red appearance of Mars or Mangal as it is known in Vedic Astrology,is believed to be the reason behind its aggressive nature and is known as Angarakha.Astrology considers Mars as a malefic planet while also as a symbol of energy and vitality. With regard to health it is associated with muscles, bone marrow, and blood. The transit of Mars in 2015 might enhance aggression due to its fiery nature. The bond with brothers is related with Mars and hence it can strengthen the relations when its position is benefic and also make it bitter when malefic. It tends to make one egoistic and it is better to maintain calm and remain peaceful. Mars helps improve a person towards achieving goals while a malefic Mars may cause relationship issues.
Benefits of Mangal Homam
Alleviates disputes in marriage.
Emotional issues can be resolved
Control in property disputes
Avoiding delay in marriage
Victory over enemies
Improve skills in decision making
Relief from financial problems
Clearing Karmic issues
Tuesdays are considered auspicious to obtain optimum results. The Mangal Homam will be performed on Tuesday, 16th June 2015 when Mars transits from Vrishabha to Mithuna.