Rahu Ketu Transit
Venue :
Chennai
Date :
September 24, 2020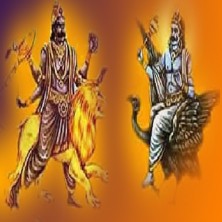 Rahu-Ketu affect destiny and fate and are at times considered the strongest of all the nine planets manifesting deep thoughts and desires ingrained in our minds. While Rahu ensures we experience karma that is due to us, Ketu causes detachment though usually through pain. Rahu is the giver while Ketu takes away. Hence their transits are important as they impact us profoundly. They tend to unfold our karma quite suddenly throwing us off track. When we reach out and pacify them they do protect us.
The transit affects those born under different rasi's as follows
Favorable
Meenam (Pisces), Katakam(Cancer) and Dhanus (Sagittarius)
Unfavorable
Mesham (Aries), Rishabam (Taurus), Thula (Libra) and Vrischika (Scorpio)
Moderate
Mithunam (Gemini), Simham (Leo), Kanya (Virgo) and Kumbha (Aquarius)
Rahu Ketu Preethi Homam to enhance the benefits and alleviate any malefic effects during this transit which lasts for one and a half years will be performed on 24th September 2020.